The #2 Rated Hair Growth Product: Aviva Advanced Hair Nutrition
Aviva Advanced Hair Nutrition - #2
Hair Growth Product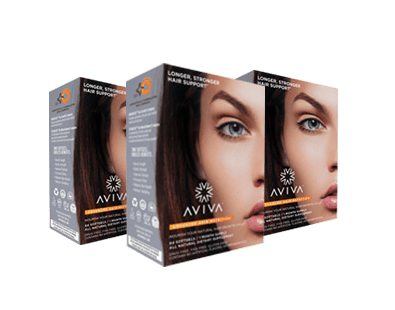 Supplement Facts
Servings Size: 2 Softgels
Servings Per Container: 45
Amount Per Serving
%DV
Folic Acid
400mg
100%
Biotin
5000mcg
1666%
Pantothenic Acid
30mg
300%
Iron (as Amino Acid Chelate)
5mg
28%
Iodine (as Potassium Iodide)
90mcg
60%
Zinc (as Zinc AA Chelate)
5mg
33%
Selenium (as Selenium Yeast)
50mcg
71%
Chromium (as Chromium Picolinate)
200mcg
167%
Boron (as Boron AA Chelate)
1mg
†
TetraPlex Complex™
960mg
Pumpkin Seed (Curcbita moschata) (oil), Phytosterol Blend, Saw Palmetto Berry Extract (Serenoa repens) (Oil), Silica (from Bamboo)
PentaPlex Complex™
Horsetail Extract (Equisetum arvense), He Shou Wu Extract (Fo Ti) (Polygonum multiflorum) 12:1 (root), Ashwagandha (Withania sominifera), L Tyrosine, MSM (Methyl Sulfonyl Methane)
Long Pepper Extract (Piper longum)
10mg
†
*Percent Daily Values are based on a 2000 calorie diet.
† Daily Value Not established
Other Ingredients: Gelatin, Glycerin, Purified Water, Bees Wax, Lecithin, Titanium Dioxide, Silicon Dioxide.
Aviva Advanced Hair Nutrition came in as our #2 ranked product. This formula provides eighteen essential nutrients for healthy hair.* They provide a good guarantee and have some positive reviews. Slightly more expensive than some of its peers, but still, we felt a fairly decent product.
EDITOR'S RATING
38 User Reviews
Introduction
The following is a review of the product called Advanced Hair Nutrition, which is manufactured by Aviva. The manufacturer of this product claims that it can provide your body with eighteen essential nutrients that are needed to make hair longer, thicker and stronger.* Read on to learn more about the ingredients contained within this product as well as our opinion of whether it is the right product to take or not.
Ingredients
Advanced Hair Nutrition is made up of all natural ingredients. A complete list of ingredients for this product are as follows:
Vitamin B-5

Folic Acid

Biotin

Iron

Zinc

Iodine

Selenium

Chromium

Boron

Long Pepper

Pumpkin Seed

Phytosterol Blend

Saw Palmetto Berry

Silica

Horsetail Extract

Shou Wu Root

L-Tyrosine

MSM (Methyl Sulfonyl Methane)
Other non-active ingredients include: Soy, Gelatin, Glycerin, Beeswax, Purified Water, Lecithin, Titanium Dioxide and Silicon Dioxide.
Dosage
It is recommended that adults take two capsules of this product daily, preferably with a meal.
Price
The price of this product is listed on the company's website as $54.99 for one month's supply and $164.95 for a three month's supply. We were unable to find any other multiple purchase discounts.
Guarantee
The manufacturer of this product does offer a money back guarantee and states that if you are not satisfied with the product and if it doesn't display the desired results, then you will be provided a full refund after deducting a restocking fee of $6.95. The manufacturer has also specified that you have up to thirty days to return it after purchase. There are only a few reviews of this product on the company's website that are mostly positive, which is to be expected. We would like to have read some external reviews to be able to ascertain a true reflection of customers' experiences.
Conclusion
Advanced Hair Nutrition by Aviva is a product that has been designed to increase the strength, shine, and texture of hair.* It aims to boost deficient minerals and nutrients for optimal hair health. However, at $54.99 per bottle, it is quite expensive. It also contains soy to which some consumers may be allergic, as well as gelatin which vegetarians and vegans will not be able to consume. So, the bottom line is that it may not be the best supplement for you and we suggest that you shop around and double check the labels to see what the formula contains.
Click here to learn about our Top Hair Growth Products.
Visit Aviva Advanced Hair Nutrition Site
John Brownstone
reviewed on and gave it a rating of
3
.