The #5 Rated Hair Growth Product: Simply Supplements
Simply Supplements - #5
Hair Growth Product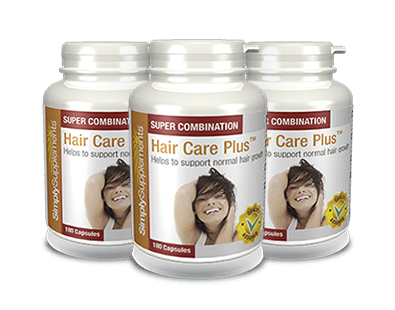 Supplement Facts
Servings Size: 2 Capsules
Servings Per Container: 30
Per capsule
% NRV
OptiMSM®
500mg
-
Vitamin C
80mg
100
N-Acetyl Cysteine (NAC)
50mg
-
Iron
7.5mg
54
NRV = Nutrient Reference Value (previously referred to as RDA)
µg = Microgramme, mg = Milligram, IU = International Units
Other Ingredients: Gelatin (Titanium Dioxide), Silica, Magnesium Stearate.
Hair Care Plus by Simply Supplements is our #5 ranked product. We felt that the product is quite expensive considering that it only contains a handful of ingredients. That said, they are of good quality and significant for helping achieve healthy hair.* They could improve their guarantee slightly as 30 days isn't the best amount of time to establish whether these ingredients work or not. This product is good, but needs a few improvements.
EDITOR'S RATING
24 User Reviews
Introduction
This article reviews the product called Hair Care Plus capsules from the manufacturers, Simply Supplements. These capsules are designed to promote a healthy scalp and hair by addressing issues regarding blood circulation that may affect the hair follicles.* The ingredients are natural and of good quality.
As you read on, you will find out more about this product with all the details, hopefully to provide you with enough information to help you decide whether or not to purchase the product.
Ingredients
Iron

NAC

Vitamin C

OptiMSM

Magnesium Stearate

Silica

Gelatin
There are no artificial additives or preservatives in this product. It is yeast, gluten, wheat and lactose-free.
Dosage
The product is a nutritional supplement meant to be taken twice or three times a day. Follow manufacturers guidelines.
Possible Side Effects
A doctor or a pharmacist needs to be consulted in any of the following conditions exist:
Taking any other medication by prescription

Having any concerns about whether this product is suitable for you

Specific concerns
If the user is either lactating or pregnant, a doctor should always be consulted. In most cases, the recommended daily dosage should not be exceeded. It is advised to keep the supplement away from the reach of children. The supplement cannot be taken to replace a varied diet. The label should be read before use.
Price
The price of this product is $54 which includes free two-day delivery. The manufacturer also offers a free gift with this purchase. They have an auto-dispatch service for repeat orders. The manufacturer offers a 20% discount to students.
Guarantee
The product offers a 30-day money back guarantee. If customers are dissatisfied, they can expect a replacement or a refund. In addition, if the same product is offered cheaper elsewhere then the difference is refunded as well as 10% on their Price Match Promise. This means the manufacturer is quite sure about the quality of the product and willing to back their faith up with money. There are several reviews for this product on the manufacturer's website, almost all positive. Some say the product is of a high standard in every way, whilst others say it has helped them with their hair care and the value provided. However, the price is high in comparison to similar supplements.
Conclusion
The product has both advantages and disadvantages. The manufacturer has listed reasons why it is good for providing support for a healthy head of hair and is said to replenish essential nutrients and vitamins that may be missing.* They offer a 2-day free delivery service which makes this product appealing. The company has been around for over ten years and has a good reputation which is a testament to good standards and is great news for consumers. However, the lack of a longer guarantee is disappointing and we also felt that the price may well put many consumers off.
Click here to learn about our top Hair care treatment products.
John Brownstone
reviewed on and gave it a rating of
3
.