The #4 Rated Hair Growth Product: J.F. Lazartigue
J.F. Lazartigue - #4
Hair Growth Product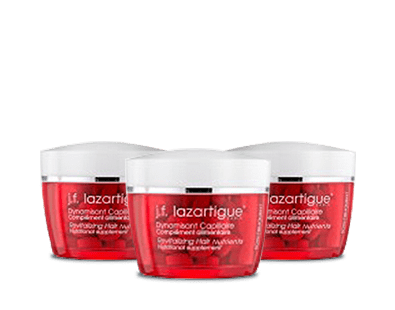 Supplement Facts
Servings Size: 3 Tablets (1,56g)
Servings Per Container: 20
Amount Per Serving
%DV
Calories 10
Total Fat < 1g
<1%
Total Carbohydrates 1g
<1%
Sugars 1g
<1%
Protein 1g
2%
Vitamin A
1320IU
26%
Vitamin E
7.5IU
25%
Riboflavin (vitamin B2)
0.8mg
47%
Vitamin B6
1mg
50%
Biotin
75µg
25%
Pantothenic acid
3mg
30%
Zinc
7mg
47%
*Percent Daily Values are based on a 2,000 calorie diet
Not a significant source of Cholesterol, sodium, vitamin C, calcium and iron
J.F. Lazartigue is our #4 ranked product. According to the manufacturer, this formula nourishes the hair and may also strengthen it as well as add vitality.* However, the cost of tablets is high and a month's supply could easily cross the $100 mark.
EDITOR'S RATING
25 User Reviews
Introduction
The following article reviews a product called J.F. Lazartigue Revitalizing Hair Nutrients. This supplement is said to nourish the hair by strengthening it and restoring its vitality, according to the manufacturer.* Read on to find out more information about this product and how it may be useful to you.
Ingredients
Energizing plant extracts – horseradish, wheat germ, lemon zest.

Scalp protectors – trace elements of zinc.
Keratin precursors – methionine and cysteine.
B-group vitamins for hair loss protection – B2, B5, B8.
Stimulating vitamins –vitamin A and vitamin E
The tablets are gelatin and aspartame free.
Dosage
The dosage depends on the condition of the hair according to the manufacturer. The dosage can range from two to six tablets daily. The tablets can be taken with meals or before. If the deficiency is considerable, then 2 tablets are advised each at morning, midday and evening. For persistent deficiency, 2 tablets are advised twice a day – morning and evening. For long term nourishment, 2 tablets are advised per day.
Price
The cost of 60 tablets is $41 according to the company's website.
Guarantee
The good news for consumers is the company provides a return policy. It accepts returns on defective, damaged and incorrect items. The product must be returned unopened within 30 days and requires a return authorization number from the customer service department, which you will need to get from then before you send the product back. We were unable to find any customer reviews available for this product, unfortunately. This may mean several things either that not too many people have tried this product or that it is fairly new to the market. Either way, the lack of reviews doesn't exactly invoke trust in the product.
Conclusion
The product has both upsides as well as some downsides. Thier formula provides a good mix of ingredients that are designed to address all elements associated with hair growth and loss. The manufacturer has a lot of hair care products, which may suggest expertise in this area. They have a good history and began as one of the most renowned hair care professionals in France. They even offer a free hair and scalp analysis to customers in New York (good if you live there, useless if you don't!). The product is gelatin free and aspartame free and the ingredients are tested in-house. Remember third party testing is the most effective way to understand if the products are genuine. However, the main drawback for us is the cost of the tablets, they are very expensive and the fact that consumers need to take so many this could turn out to be a hard hit on your pocket. Good, but could be better!
Click here to learn about our top Hair care treatment products.
John Brownstone
reviewed on and gave it a rating of
3
.